Post Covid Syndrome
Posted by Rita Texeira on 1 March 2022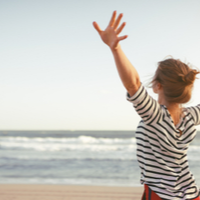 The prevalence of persistent symptoms after the acute viral illness is speculated to be around 30%. The most common symptoms reported in our clinic are fatigue, headaches, hair loss, memory loss, poor concentration, joint pain and chest discomfort. By definition, post-viral syndrome is any symptoms remaining for at least 12+ weeks after the acute infection. As life gets 'back to normal", we predict evolving symptoms to appear in our patients.
We have been told that the Omicron variant is a milder version, but is it? What we know today is that it's at least 50% more contagious than the Delta variant, and therefore causes more illness especially in the younger population.
Individuals with low systemic Vitamin D levels may be at higher risk of post COVID-syndrome, but more studies are needed to assess the prevalence of low Vitamin D status in our society. Deficiency in Queensland and Northern Territory are lower than the other South Eastern states, but some people are still affected. A metabolite of Vitamin D is now recommended as an effective supplement, particularly in cases of malabsorption or impaired hepatic (liver) function. However, in cases of intestinal fat malabsorption (post-bariatric surgery) intestinal absorption may be severely impaired. It's important to note that high dose Vitamin D supplementation without knowing your blood levels is not recommended. Your general practitioner or our clinic can provide a referral.
There have been suggestions that a portion of long-COVID symptoms may be the result of COVID-19 inflammation-induced Epstein-Barr Virus (EBV) reactivation. This virus has infected roughly 90 % of the worlds population and is normally inactive in the body.
Auto antibodies have also been implicated with sequalae involving other infectious agents contributing to many long-COVID symptoms.
Patients suffering from a low cortisol state were also more likely to develop long-COVID syndrome. Uncertainty and stress initially lead to amplified cortisol levels, but over time a reduction is seen. This leads to issues with memory and concentration. We routinely test morning cortisol levels.
Symptoms of EBV reaction such as skin lesions, tinnitus and hearing loss resemble the symptoms experienced by COVID patients. Assessment of the EBV antibody Titers is an option to access the immune dysfunction.
Researchers found that mild cases of COVID, not just severe cases, can lead to long COVID. After infection, some respiratory, cardiac, vascular and renal function impairment is seen and should be screened for in patients with remaining symptoms.
One study found the amount of viral load is associated with a range of long-COVID symptoms. Naturopathically, therapies which target immune dysfunction should be considered.
If you would like to book an appointment to discuss how we can assist then please email us at reception@resolvemyhealth.com.au or call us on 07 5525 2211
Gold J.E, Okyay, R.A., Licht, W.E., & Hurley, D.J. (2021) Investigation of Long COVID Prevalence and it's Relationship to Epstein-Barr virus Reactivation. Pathogen (Basel, Switzerland), 10 (6), 763. https://doi.org/10.3390/pathogens10060763
Predicting Long COVID at initial point of COVID-19 diagnosis. Institute for Systems Biology, 21-Jan-2022