Posted by Rita Texeira on 22 February 2021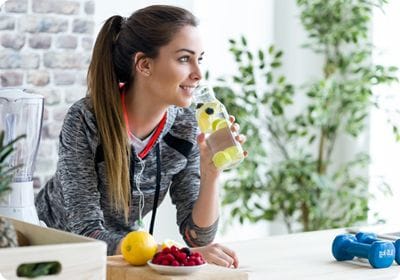 Research suggests the benefit of supplemental vitamin D to assist with immune function. Vitamin D controls the expression of selected genes as it's a steroid hormone. It can effect transcriptional changes within our genes. Further evidence suggests vitamin D to be an important regulator of immune function. An observational study in Germany showed reduced mortality to respiratory conditions with adequate vitamin D levels.
Many of my patients are aware of optimal vitamin D levels and osteoporosis but few know about the link to the immune system. White blood cells (WBC) have vitamin D receptors and have been shown to reduce the risk of infections such as influenza. It has also shown to increase antimicrobial peptides in human WBC.
A survey conducted in the United States indicated that people spend around 86,9 percent of their day indoors. Although figurers may be different for anybody living over the 34 degrees latitude. Viral infection are higher in the winter months and in cities more south.(Australia)
There are other factors leading to lower vitamin D levels such as a diet with an increase consumption of high fructose corn syrup, higher body mass index and patients with chronic kidney disease. Skin colour also effects vitamin D absorption and with aging the skin is no longer efficient to make adequate vitamin D levels.
Do you know your vitamin D levels? Consider doing a test.
Medicare only funds testing for patients with certain relevant health conditions. It is advisable to know your levels for optimal dosage.
You can contact us for a referral to have your levels tested. Some Pathology labs can test for both your storage and active vitamin D. This is important for anybody with chronic auto immune conditions. Some references.
MacLaughlin J & Holick M F (1985), Aging decreases the capacity of human skin to produce vitamin D, J. Clin Invest, 76 (4) 1536-1538.
Lui P T,(2006) Toll-like receptor triggering of a vitamin D mediated human antimicrobial response. Science, 311, 1770-1773.
Calder P C, Carr A C, Gombart A F, Eggersdorfer M (2020) Optimal nutritional status for a well-functioning immune system is an important factor to protect against viral infections, Nutrients,12:118
McCarthy D M, O'Shea P M, Faul J L et al (2020), Vitamin D and SARS-COV-2 infections evolution of evidence supporting clinical practice and policy development, Ir J Med Sci.Griffen T P, Bell M, Robinson T (2017), Vitamin D and Vitamin D deficiency in Ireland a call to action: UPDATE
If you would like to book an appointment or purchase supplements please email us at reception@resolvemyhealth.com.au or call us on 07 5525 2211.

Please follow us on Facebook for up to date information and relevant immune support strategies.